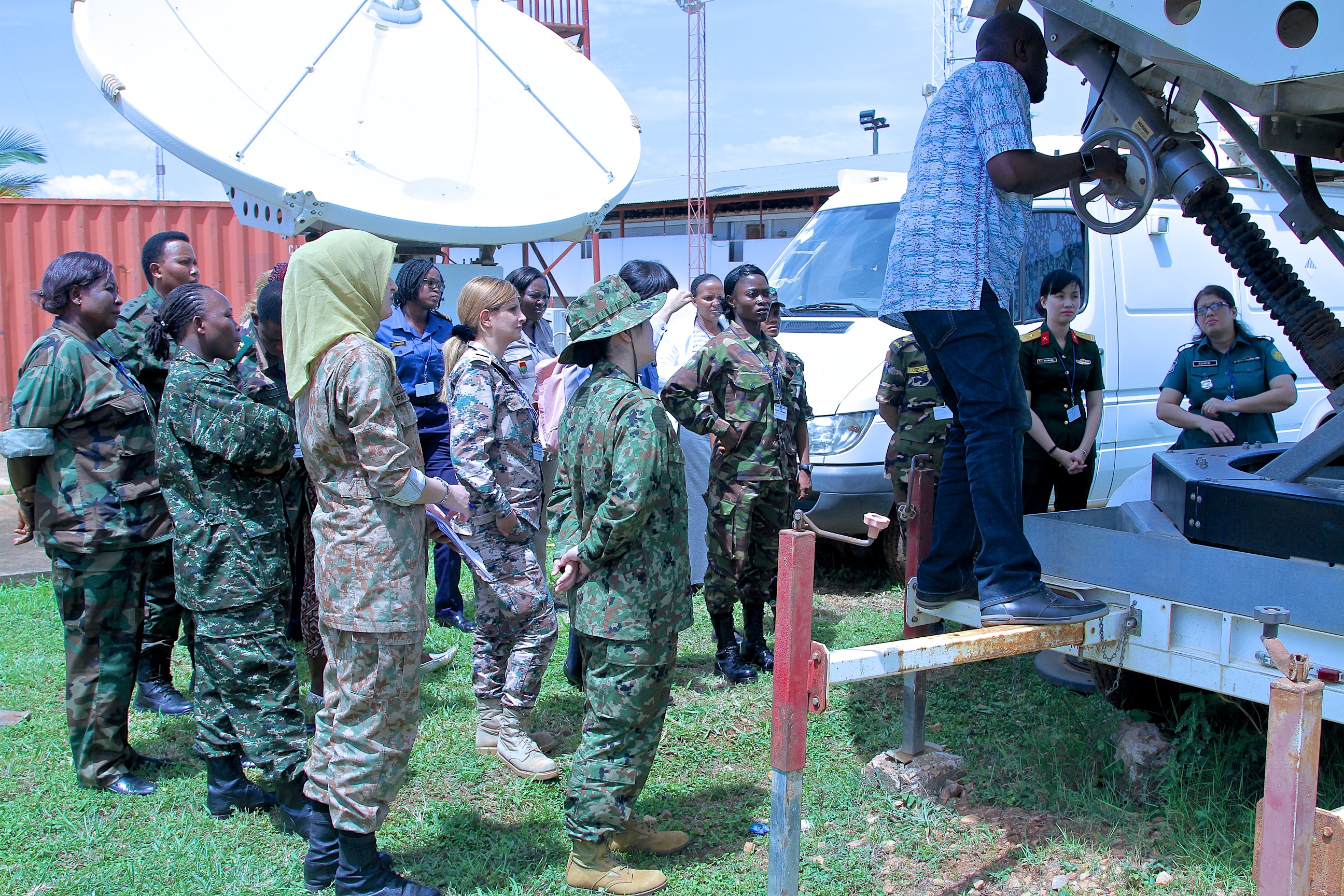 Women's Outreach Course l Regional Service Centre-Entebbe l 2019
Strengthening the performance of our UN Peacekeepers contributes to more effective implementation of mandates and better safety and security of our personnel.
Since its inception in 2015, established as the UN Signals Academy, the newly named UN C4ISR Academy for Peace Operations (UNCAP) continues to uphold the highest standards and has elevated its goals to better respond to the challenges of peace operations and the expectations of Troop Contributing Countries and Police Contributing Countries (TCCs/PCCs).
The UNCAP programme provides core training on key UN-Owned Equipment to uniformed and civilian specialists in Command, Control, Communications, Computers, Intelligence, Surveillance and Reconnaissance (C4ISR); and Camp Security:
The basics of information and communications technologies (ICT) including Radio communications, Satellite communications, Networking, Cybersecurity, and Spectrum management
Intelligence, Surveillance, and Reconnaissance (ISR) technologies; in particular micro Unmanned Aircraft Systems (UAS)
Camp security and Early Warning technologies including terrestrial radars, Sense & Warn systems
The modules will also be offered in other UN official languages. The curriculum is updated on a regular basis to incorporate new C4ISR and camp security technologies and standards.
 
Milestones
As of 31 December 2020, the UN C4ISR Academy for Peace Operations has achieved the following milestones:
Graduated a total 6,810 ICT uniformed specialists (12% female) from 104 countries.
Developed an online learning platform, offering C4ISR and camp security technologies courses to civilian and uniformed personnel who are deployed or are in pre-deployment to peacekeeping missions.
Established a Mission Operations Centre - Simulated Training Environment (OPSCEN-STE) at UNCAP in Entebbe.
Completed six editions of the Women's Outreach Course for ICT uniformed specialists. A total of 177 female officers from 57 countries were trained, 27 course graduates (17%) have been deployed as signals/ICT staff officers, military observers and police advisors.
Conducted two editions of the Information Communication Technology Training-of-Trainers. This technical course provides knowledge and skills on UN-owned technology to UN mission personnel and capacity building to Troop Contributing Countries (TCCs).
Introduced the Modular Command Centre Training-of-Trainers. This course was designed to develop a pool of trainers that can effectively and efficiently train others to safely deploy, operate and maintain the "M-products" deployable capabilities: Modular Command Centre (MCC) and Modular Power Pack (MPP).
Trained 70 military and civilian personnel on the Micro Unmanned Aircraft System (UAS). Graduates are from the United Nations Support Office Somalia (UNSOS) and United Nations Organization Stabilization Mission in the Democratic Republic of the Congo (MONUSCO). Students represented Aviation Safety, African Union Mission in Somalia (AMISOM) sectors, UNSOS Field Technology Section, Close Protection Team, Police, UN Mine Action Service, MONUSCO Field Technology Section, Intelligence-Surveillance-Reconnaissance cells in MONUSCO and AMISOM, personnel from the UN Department of Security and Safety, and the Public Information Office. 
 
Raising the Bar in 2021
In 2021, UNCAP aims to better respond to the needs of UN Missions and the expectations of TCCs/PCCs. The programme plans to further strengthen its operational capacity by
Enhancing its existing programmes

Classroom-based courses at the Academy hub in Entebbe, Uganda, close to the epicentre of peacekeeping  
Mobile training teams deployed In-Missions or at the TCC/PCC level
Remote learning through self-paced courses or through Virtual Instructor-Led Technology (VILT)

Expanding course offerings

All basics of ICT
Unite Aware situational awareness application suite and scenario-based practical training
ISR micro-drones
Camp security technology
 

Developing E-Learning courses that are accessible remotely by TCCs/PCCs and UN Missions
 
Delivering situational awareness application suite (Unite Aware) training and enhancing situational awareness and decision-making in field operations
 
Offering training in other UN official languages (especially in the French language)
 
Further developing the Triangular Partnership by seeking support from additional partners to sustain the programme at its new levels of ambition