The Office of Information and Communications Technology is responsible for defining strategic direction for ICT in the Secretariat. It provides oversight of ICT programmes, systems, applications and decision-making to ensure alignment with the Secretariat's overall ICT strategy. The team consists of more than 300 people operating global data centers and coordinating services provided by more than 4,000 people in UN offices worldwide. The Office is headquartered in New York and has a dual reporting line to the Department of Operational Support (DOS) and the Department of Management Strategy, Policy and Compliance.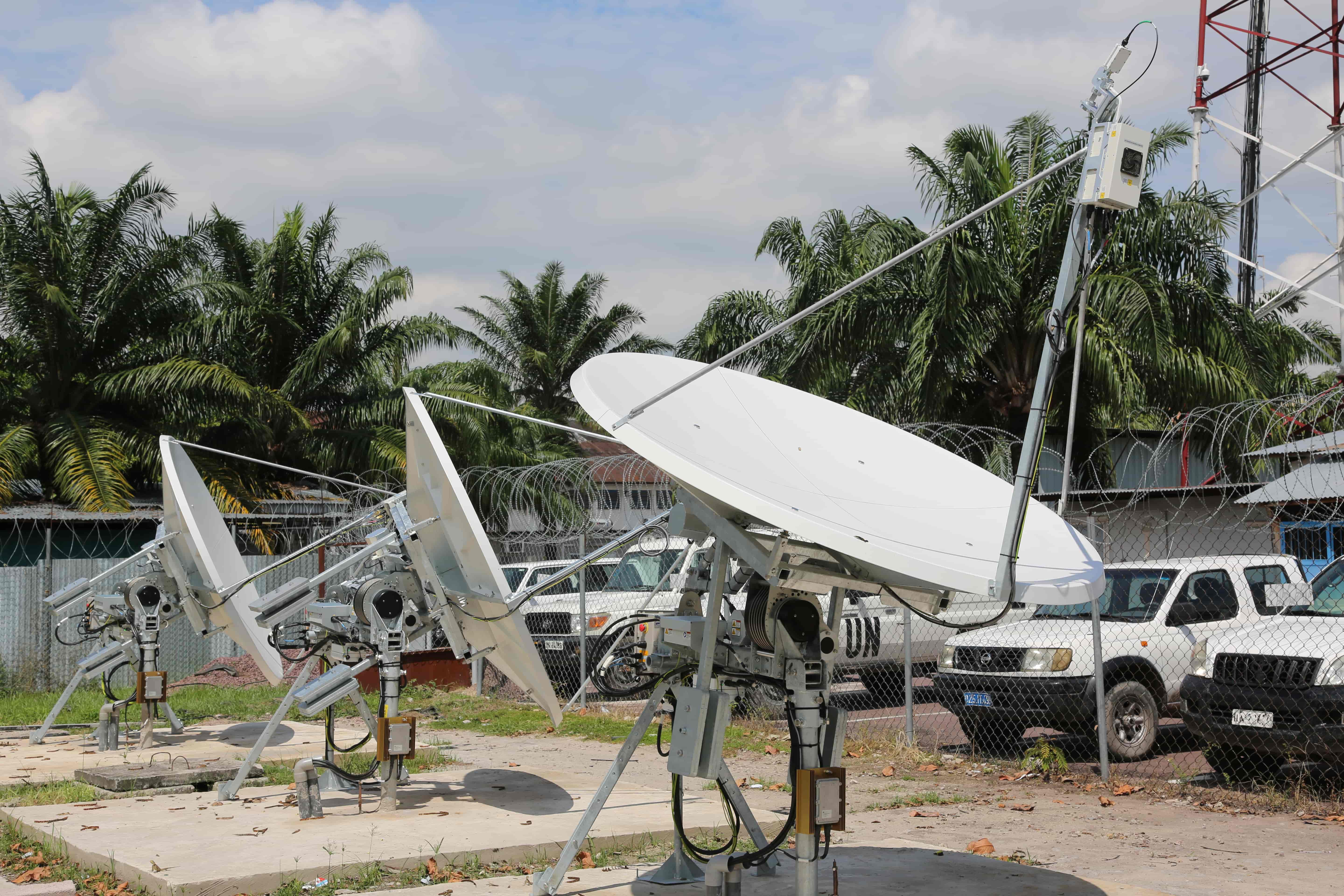 MONUSCO/Michael AliSatellite Dishes mounted by the Satellite Unit at the MONUSCO UTEX Compound in Kinshasa, DRC.
Overall focus
The Office focuses on strategic, long-term improvements across the Secretariat, through:
enterprise applications (such as Umoja, inspira, Mail, Self Service, Connections and Docs);
new technologies and innovation (for example business intelligence, analytics, machine learning, artificial intelligence, and blockchain);
efficient management and development of its global ICT infrastructure (including lease lines and satellite communications);
strengthening information security;
project management frameworks;
ICT governance; and

A technology strategy for the future UN
ICT staff across the global Secretariat collaborated to develop a modern, responsive ICT strategy for the United Nations.
The ICT strategy (A/69/517) was submitted by the Secretary-General at the 69th session of the General Assembly and Member States endorsed all the elements (A/RES/69/262). It defined the roadmap for ICT for five years, recognized lessons learn and improved upon past performance. It embedded an ongoing transformation and innovation agenda particularly with regard to mainstreaming Umoja, the Enterprise Resource Planning system, and the adoption of International Public Sector Accounting Standards (IPSAS).
The strategy provided a common vision for ICT delivery in the United Nations through modernization, transformation and innovation. It established a framework for improved governance, strong leadership and optimal use of ICT resources to support effective decision-making.
Modernize: 

support strategic priorities of the Secretariat through advanced technology

Transform: 

restructure ICT globally to provide enhanced services

Innovate: 

foster innovative solutions that enable the UN to fulfill its mandates

Optimize: 

ensure ICT resources support business objectives and bring value for investment

Govern: 

strengthen governance and technical authority to ensure compliance and accountability
Although the strategy required that we "do more" on behalf of the Organization, it provided a roadmap for accomplishing our objectives "with less." We took on the mandate from Member States to align ICT with the core work of the UN, strengthen central control and governance, reduce fragmentation, increase collaboration and deliver enterprise-wide solutions.