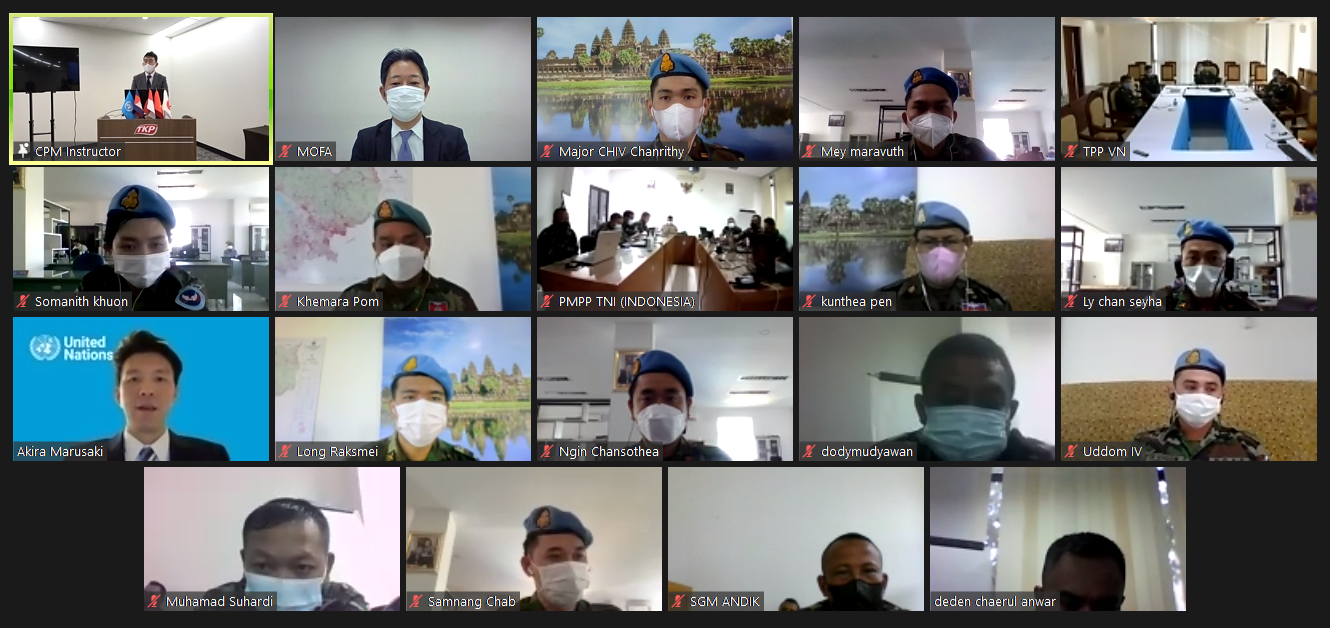 The Construction Process Management Course (CPM) conducted online
PROJECT TIMELINE (AS OF 1 JULY)
2022
Third workshop of Telemedicine Project completed
Heavy Engineering Equipment (HEE) Basic course in Kenya by Japanese trainers
HEE Intermediate course in Kenya by Swiss trainers with assistant trainers from Ghana and Kenya
Field Medical Assistants Course (FMAC) Training of Trainers (TOT) Virtual Workshop
HEE Maintenance course started in Brazil by Brazilian trainers
FMAC TOT and the Second Pilot FMAC in Uganda attended by uniformed peacekeepers from MONUSCO, UNISFA and UNMISS with one UN Head Trainer and seven Head Trainer candidates, who were successfully certified as Head Trainer
The UN C4ISR Academy for Peace Operations (UNCAP) delivered the Micro- Unmanned Aircraft Systems (UAS) Remote Pilot Course in Entebbe
UNCAP delivered the seventh Women's Outreach Course (WOC) in Entebbe
UNCAP delivered the Micro-UAS TOT Couse as a mobile training to MIUNUSCA
2021
Pilot Telemedicine Project was launched in four UN missions of MINUSCA, MINUSMA, MONUSCO and UNMISS
First and second workshops of Telemedicine Project completed
Triangular Partnership Programme (TPP) in-person courses resumed with the implementation of site-specific COVID-19 risk-mitigation measures
Six former trainees from Ghana, Kenya, Rwanda and Uganda were engaged as assistant trainers to Swiss Lead Trainer for HEE TOT and Intermediate courses held in Kenya
UN Environmental Management in Peace Operations course (remote) by UN trainers conducted
Physical Security Infrastructure (PSI) course (remote) by UN trainers
Construction Process Management (CPM) course (remote) by Japanese trainers
In-person training on C4ISR and camp security technologies resumed at UNCAP in Entebbe (Micro-UAS Instructor Course)
2020
HEE TOT course in Viet Nam by Japanese trainers
HEE TOT course in French in Morocco by Moroccan trainers
Further TPP in-person courses in 2020 were cancelled due to COVID-19 pandemic
The UN Signals Academy (UNSA) was rebranded as UNCAP
UNCAP has entered a new phase of expansion by delivering online training and Situational Awareness tools scenario-based and simulation-based training at the Operations Centre - Simulated Training Environment (OPSCEN-STE) in Entebbe
2019
Combined HEE Basic and Intermediate courses in Kenya by Japanese trainers
First HEE mobile training courses in Uganda by Japanese and in Rwanda by Swiss trainers
HEE course in Viet Nam by Japanese trainers
Third EPM course (first combined EPM course for African and Asia Pacific TCCs) in Kenya by Brazilian trainers
First HEE Maintenance course in Brazil by Brazilian trainers
First Pilot FMAC in Uganda attended by uniformed peacekeepers from MONUSCO and UNMISS with trainers from UN, Belgium, Germany, and Japan
UNSA delivered its second Information and Communications Technology (ICT) TOT course and its sixth WOC in Entebbe
2018
First standalone HEE Intermediate course in Kenya by a Swiss trainer supported by four assistant trainers from Ghana, Kenya, Rwanda and Uganda
First HEE TOT course in French in Kenya by a Swiss trainer
First combined HEE Basic and Intermediate course in Kenya by Japanese trainers
Second EPM course for African TCCs in Kenya by Brazilian trainers
Pilot HEE course in Viet Nam by Japanese trainers
UNSA delivered its fourth WOC in Entebbe
2017
HEE Course for trainees from Tanzania in Kenya by Japanese trainers
First EPM course in Kenya by Brazilian trainers
UNSA delivered the first ICT TOT course in Entebbe
2016
HEE Basic course for Kenyan trainees in Kenya by Japanese trainers
First HEE TOT Course in Kenya by Swiss trainers
UNSA delivered the first Women's Outreach course in Entebbe, Uganda
2015
Six-week HEE proof of concept pilot l course was conducted in Kenya by Japanese trainers
2014
The Project was announced at the Heads of State-level Summit on UN peacekeeping
WAY FORWARD
The Triangular Partnership Programme (TPP) will increase its geographic scope, course offering and delivery methods and enhance the overall impact of its peacekeeping training and capacity building efforts to enable actual deployment. It will also strengthen the provision of operational support to peacekeepers through the expansion of telemedicine to more peace operations. The TPP will further deepen its collaboration with regional organizations such as the African Union (AU) and the Association of Southeast Asian Nations (ASEAN) and coordinate with internal and external UN partners to identify and address new, emerging and underserved capability and operational support gaps. New areas currently under development include courses in horizontal and vertical engineering, occupational safety, airstrip maintenance, and environmental management.
The TPP will put even more emphasis on direct tracking of trainees, harmonization of course curriculum, and selection and verification based on systematic application of comprehensive criteria.
The TPP will also adopt a data-driven approach to track progress, measure outcomes and create an iterative training feedback and improvement loop. Finally, the TPP will engage with Member States directly to increase the number of women peacekeepers by facilitating the participation of more women trainees in TPP courses; and increase capable French speaking peacekeepers for francophone peacekeeping setting by offering more courses in French language.