Bringing greater involvement and collaboration to United Nations peacekeeping by aligning the technological and innovative capacities of the world with the specific needs of the field missions: Innovation can be transformative. In field technologies in particular—a strategically important area of the United Nations—applying novel approaches to global peace operations can help peacekeepers make faster and more informed decisions, better-protect civilians and uniformed personnel by keeping them connected and improve the readiness of military communications officers prior to their deployment to a peacekeeping environment.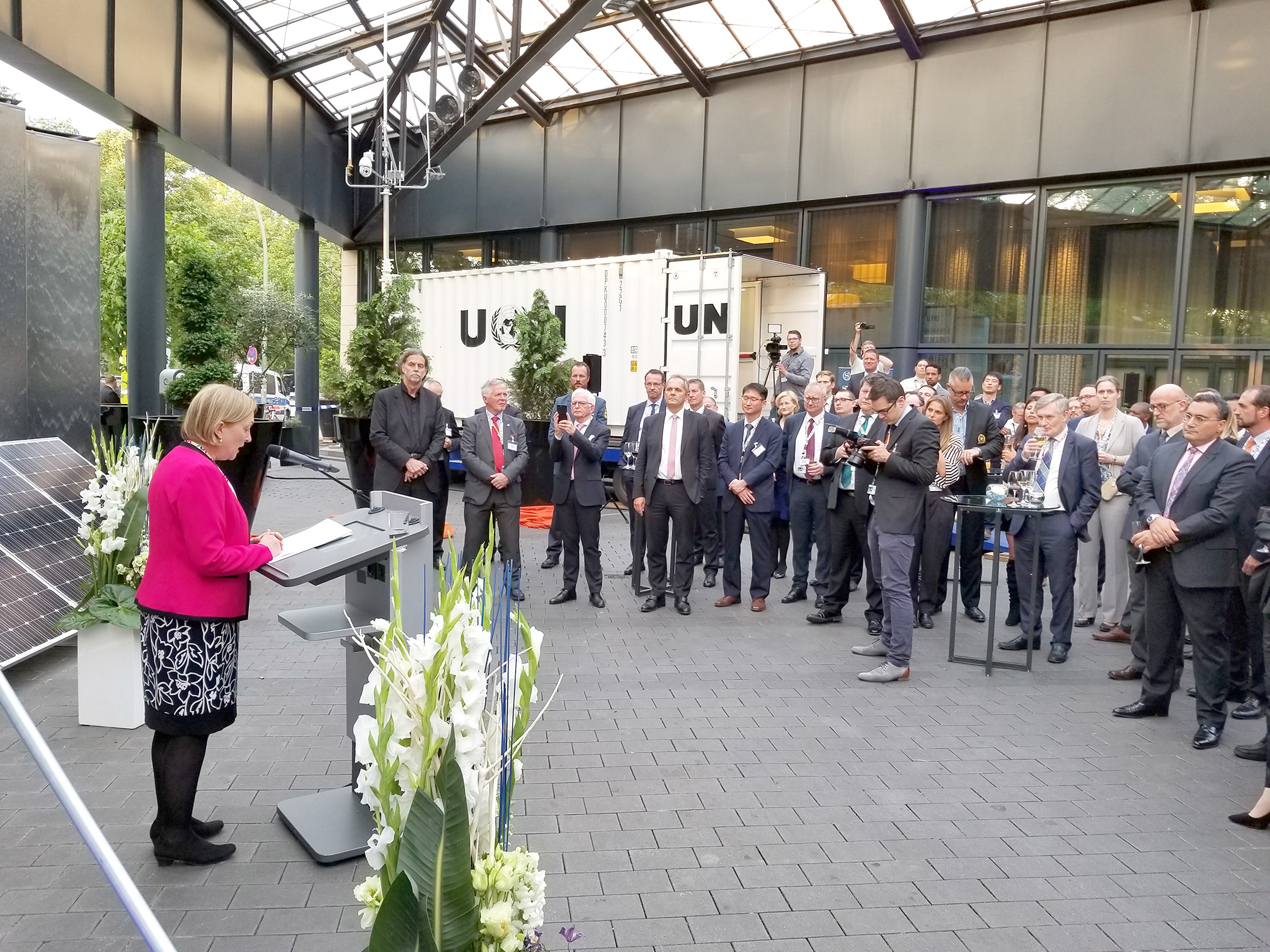 Symposium 2018Lisa M. Buttenheim, Assistant Secretary-General, introduces the technical demonstration of the UN Modular Command Centre to attendees.
The Partnership for Technology in Peacekeeping initiative was established in 2014 with an objective to bring greater involvement to peacekeeping through innovative approaches and technologies that have the potential to empower UN global operations. This initiative is now managed by the Department of Operational Support (DOS) and the Office of Information and Communications Technology (OICT). The initiative has been influenced by the recommendations made in:
With technology continuously evolving and expected to play an ever-increasing role in supporting multidimensional mission mandate implementation, OICT, DOS, and Member States are presented with both a challenge and exciting opportunities.
The Partnership for Technology in Peacekeeping initiative offers Member States an opportunity for a new kind of relationship with OICT and DOS beyond the traditional troop, police and financial contributions—one that aligns the technological and innovative capacities of the world with the specific needs of the Field Technology Sections in the field missions.
The international symposium is at the core of the initiative, and it is the only information-sharing conference on field technology organized for the peacekeeping community.
The conference provides a platform for a high-level technology think tank committed to identifying the strategic challenges in peace operations and initiating innovative partnership projects that have the potential to quickly impact peacekeeping through real and effective solutions.
The forum has proven to be fertile ground for knowledge sharing, brainstorming, synchronized efforts, the development of new partnerships, and practical, hands-on projects; an early success and ongoing initiative of the Partnership for Technology in Peacekeeping is the UN C4ISR (Command, Control, Communications, Computers, Intelligence, Surveillance, and Reconnaissance) Academy for Peace Operations.
During the event, attendees meet with senior leaders from United Nations peacekeeping missions, the Global Service Centre, and Headquarters to learn about the current state of field technology operations, its future, and the specific areas where opportunities exist for contribution and collaboration. Symposium themes set the tone for high-level discussions.
Past Symposia
 
2023: "Harnessing Technology for Digital Transformation"
Host Country: Nepal
The 2023 Symposium was held in Kathmandu, Nepal, and was attended by approximately 250 delegates. The theme of the Symposium was "Harnessing Technology for Digital Transformation" and the following five priority areas were examined in-depth, where technology has the potential to significantly impact how peacekeeping mandates are delivered: Leveraging Technology to Protect Peacekeepers, Information-Driven Peace Operations, Integrated Training and Capacity Building, UN Smart Camps and Telemedicine.

2022: "Informed. Aware. Effective"
Host Country: South Africa
Following two years of delays caused by the pandemic, the 2022 Symposium was attended by 322 delegates from 43 Member States, host nation, different United Nations entities, academia and others. In addition to being the event with the largest number of participating delegates, this event also broke records in terms of participation in the thematic working groups, with more than 250 delegates discussing how to make peace operations safer, better informed, better trained, environmentally friendly and provide better health services.

2019: "Predict. Prevent. Protect"
Host Country: Kazakhstan
A total of 266 delegates from 42 Member States attended the 2019 Symposium, making this the largest symposium to date. Discussions were centered around leveraging technologies to advance the topic areas in the context of United Nations peace operations. United Nations uniformed and non-uniformed personnel, and participants from Member States engaged in a series of plenary, working group and discussion forums.

2018: "Next Tech Peacekeeping"
Host Country: Germany
The 2018 symposium attracted a number of attendees from member states with an interest in making a significant impact on the core operations of the peacekeeping missions. Representatives from Member States, academia, think tanks, and other UN partners met with DFS Field Technology teams to identify whether the expertise pools available in Member States could support the ongoing activities in peacekeeping technology. Discussions around innovation built upon the momentum from the prior symposia.

2016: "Awareness, Protection, Innovation"
Host Country: Republic of Korea
Subject Matter Experts: France and Canada
MINUSMA Mission Secure Network project (Kidal) – in partnership with France
Colombia Mission – THW Rapid Deployment
MINUSMA Camp Security Project Phase 2 (Gao) – in partnership with France
UN Open GIS: contribution of Synthetic Aperture Radar (SAR) satellite imagery for peacekeeping
The event attracted 118 representatives from the military and police of 18 Member States, and academic and research institutions: Korea Research Institute for Human Settlements (KRIHS), the OSGeo and Politécnica di Milano, Italy, the University of Applied Sciences, and Arts of Southern Switzerland.

2015: "Innovation and Next-Generation Peacekeeping"
Host Country: Austria
Subject Matter Experts: Switzerland and France
MINUSMA Mission Secure Network project – in partnership with France
Modular Command Centre – in partnership with Germany
MINUSMA Camp Security Project – in partnership with France
UN Signals Academy Establishment – in partnership with Japan
UN Open GIS establishment
First engagement of Government of Japan into UN PKO
The conference attracted 100 military and police from over 30 Member States as well as representatives from the United Nations University, the Danish Institute for International Studies, the United Nations Office for Outer Space Affairs, the United States PeaceTech Lab, and the Organization for Security and Co-operation in Europe.

2014: "Exploring New Partnerships"
Host Country: Italy
Concept for a regional ICT training centre in Entebbe, Uganda—the UN Signals Academy
Improving camp security through integrated aerostat solutions—the MINUSCA Camp Security Project
Establishment of the strategic partnership framework
This first-time event attracted 46 international delegates and included military and police from 16 Member States and the North Atlantic Treaty Organization (NATO) and officially established a high-level strategic partnership framework to meet annually to discuss projects and in0itiatives that enhance information technology and communications for peacekeeping missions.

Key Partnership for Technology in Peacekeeping Projects in Progress
The symposium has proven to be a very effective and successful platform to achieve actual outcomes that can impact missions almost immediately and to find ways to utilize and redirect existing capacities in a mutually beneficial way. Learn more about ongoing initiatives.