As a direct outcome of the 2014 Leaders' Summit on UN Peacekeeping, the Triangular Partnership Project was launched in 2015 to conduct peacekeeping engineering training in East Africa for uniformed peacekeepers. The Project has since expanded into a full-fledged programme, the Triangular Partnership Programme (TPP), with four distinct projects. The first three projects focus on training related to engineering, field medicine, C4ISR (Command, Control, Communications, Computers, Intelligence, Surveillance, and Reconnaissance) and camp security technologies. The fourth is focused on the introduction of Telemedicine to improve access to medical care in peacekeeping missions.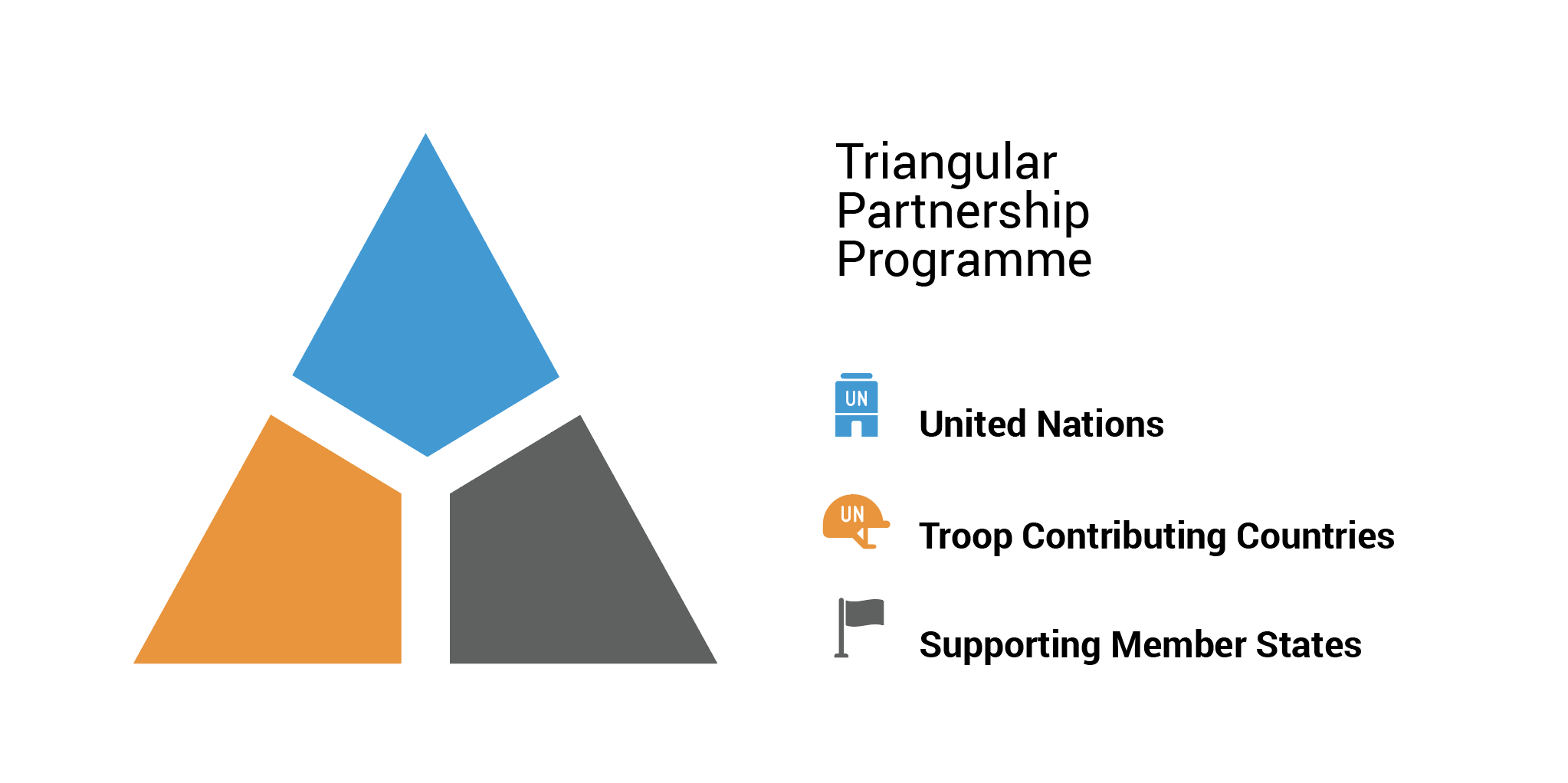 OBJECTIVES
The TPP aims to enhance peacekeepers' capacity in engineering, medical and C4ISR & camp security through the provision of training and operational support. Once trained, these troops are better equipped to deliver high value and priority requirements, improving the ability of UN missions to operate more effectively on the ground. The TPP also provides a framework for improving operational support to field missions with new initiatives like telemedicine and contributes to the implementation of the Action for Peacekeeping (A4P) and A4P+ agendas.
TRAIN
Rapid Deployment: Building a pool of well-trained uniformed peacekeepers to support rapid deployment of units to UN missions
Flexibility: Delivering training in Africa, Southeast Asia and surrounding regions in partnership with donors and host countries using facilities, capacities and equipment best suited for each location.
Strengthening Regional Capacity: Providing Training-of-Trainers (TOT) courses to strengthen regional peacekeeping training capacities.
Engineering: Conducting in-situ courses in Heavy Engineering Equipment (HEE) Operator at the basic, intermediate and TOT levels, HEE Maintenance and Engineering Project Management (EPM); Provide remote UN Environmental Management in Peace Operations, Physical Security Infrastructure (PSI) and Construction Process Management (CPM).
Medical: Conducting in-situ training for the Field Medical Assistants Course (FMAC) and its in-situ and remote hybrid TOT course, the Master Trainer Course (MTC), in collaboration with the Division of Healthcare Management and Occupational Safety and Health (DHMOSH).
C4ISR & Camp Security Technologies: Providing standardized and mission-specific training on C4ISR (Command, Control, Communications, Computers (C4), Intelligence-Surveillance-Reconnaissance (ISR)) and camp security technologies to UN military & police personnel.
OPERATIONAL SUPPORT
Telemedicine network: Establishing a telemedicine network within missions and between a mission and external specialists (MINUSCA, MINUSMA, MONUSCO, UNMISS; UNDOF, UNSOS, UNSMIL, UNISFA)
Telemedicine training: Training mission personnel on the use and maintenance of the telemedicine system.
SUPPORT FOR THE PROGRAMME
By endorsing the Declaration of Shared Commitments on UN Peacekeeping Operations, more than 150 Member States committed to better prepare, train and equip uniformed personnel by pursuing innovative approaches, including triangular partnerships.
To enhance the sustainability of the Programme, the United Nations welcomes support from Member States in the form of funding and in-kind contributions of trainers and engineering, medical, and C4ISR equipment.
CONTACT