As direct outcome of the 2014 UN Peacekeeping Summit, the Triangular Partnership Project (TPP) was launched in 2015 as an initiative to conduct peacekeeping engineering training in East Africa to enhance the preparedness and effectiveness of peacekeeping missions. The project has expanded into a full-fledged programme, the Triangular Partnership Programme, with specialized training courses in engineering, field medicine, and C4ISR (Command, Control, Communications, Computers, Intelligence, Surveillance and Reconnaissance) & Camp Security Technology.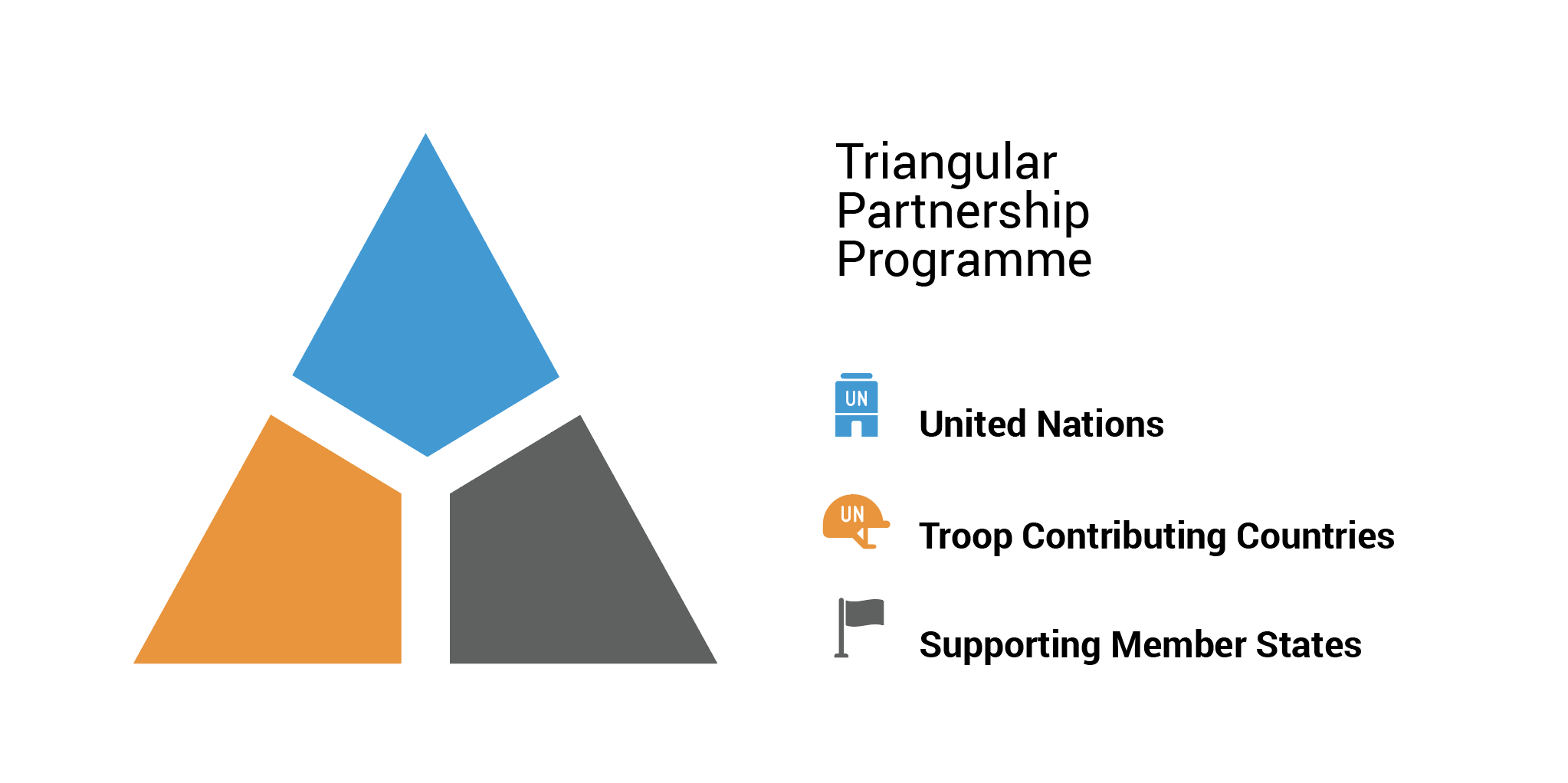 OBJECTIVES
The Triangular Partnership Programme aims to enhance the capacity of engineering, medical and C4ISR & Camp security, and uniformed personnel through the provision of training and equipment. These trained troops will deliver high value and priority requirements, improving the ability of UN missions to operate more effectively on the ground.
Train
Rapid Deployment: Train units in horizontal engineering tasks to operating and maintaining heavy engineering plant equipment and deliver engineering works timely and effectively.
Flexibility: Deliver training in Africa and Southeast Asia in partnership with host countries, trainees and trainersusing facilities, capacities and equipment best sourced for each location. 
Strengthening regional Capacity: Provide Training-of-Trainers (TOT) courses to build a pool of competent trainers who can help strengthen capacity of uniformed peacekeepers in the regions.
C$ISR & Camp Security Technologies: Provide standardized and mission-specific training on Command, Control, Communications, Computers (C4), and Intelligence-Surveillance-Reconnaissance (ISR) technologies to UN mission military & police or T/PCC specialists.
Equipment
Heavy Engineering Equipment (HEE): Lease equipment for Engineering training courses.
Medical Equipment: Purchase equipment for Field Medical Assistants Courses (FMAC).
C4ISR Equipment: Purchase equipment for UNC4ISR Academy courses.
SUPPORT FOR THE PROJECT
By endorsing the "Declaration of Shared Commitments on UN Peacekeeping Operations," more than 150 Member States committed to "better prepare, train and equip uniformed personnel by pursuing innovative approaches, including triangular partnerships"
To enhance the sustainability of the Project, the United Nations welcomes support from Member States in the form of funding and in-kind contributions of trainers and engineering, medical, and signals equipment.
CONTACT