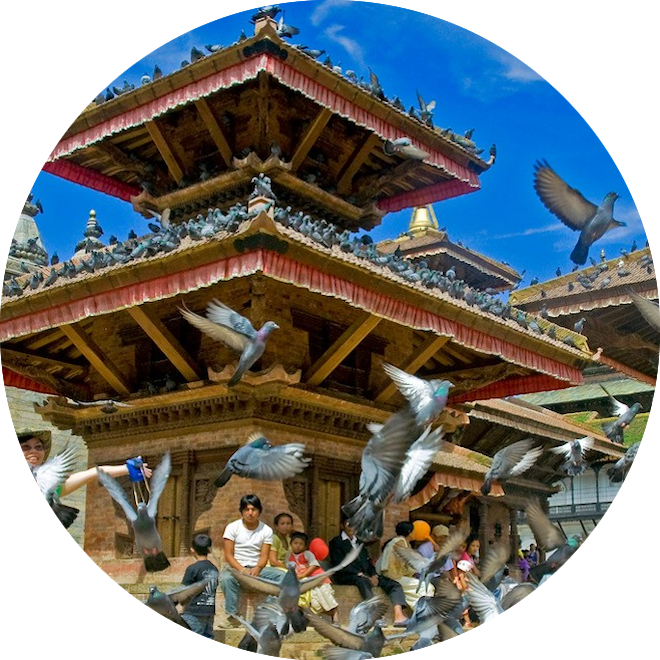 Symposium 2023 Location  Kathmandu, Nepal
13-16 June 2023

The Department of Operational Support (DOS) and the Office of Information and Communications Technology (OICT), in cooperation with the Government of Nepal will host the Seventh Partnership for Technology in Peacekeeping International Symposium in Kathmandu, Nepal, from 13 to 16 June 2023.
The theme of the 2023 Symposium is "Harnessing Technology for Digital Transformation". The Symposium will focus on aligning technology deliverables with the objectives of the Department of Peace Operations' Digital Transformation Strategy (DTS) and will build upon the momentum and initiatives resulting from prior symposia. To date, the Partnership for Technology in Peacekeeping initiative has resulted in the Department of Operational Support (DOS) and the Department of Peace Operations (DPO) implementing impactful projects with Member States, international organizations, academia, and civil societies, and delivering technology solutions to address key challenges facing United Nations field operations. The Symposium offers a unique forum for Member States and Peacekeeping missions' leaders and experts to engage and share technological and operational knowledge, best practices and lessons learned.
The Symposium has matured into a valuable mechanism where the United Nations presents peacekeeping challenges to its partners and explores experiences, and identifies relevant innovative approaches and applicable technology solutions. The Government of Nepal will be represented at the Ministerial level and the UN delegation will be represented at the Under Secretary General level.
 

Theme:
"Harnessing Technology for Digital Transformation"
Host Country: Nepal
Reference Information Provided Prior to the Symposium
---
GENERAL INFORMATION
Symposium Venue  
|
   The Soaltee Kathmandu

Event Language  English
 
Conference Hours  09:00 to 17:00
 
Schedule  TBD
 
Venue  The Soaltee Kathmandu 
Eligibility to Attend
The event is open to all interested military, police and civilians from United Nations Member States and other UN partner entities. Delegates must be nominated by their organization to participate in the symposium.
There is no fee to attend the symposium.
This is not a commercial event.

Optional Social Activities  
A Welcome Reception will be held on Tuesday, 13 June (venue The Soaltee Kathmandu).
An Official Dinner will be held on Thursday, 15 June (venue Nepali Army Headquarters).
A Cultural Program will be held on Thursday, 15 June (venue Nepali Army Headquarters).

Conference Contacts
For assistance with registration, or if you have questions about the event, direct your inquiry to the United Nations Partnership for Technology in Peacekeeping Programme Management at: UN-PTP@un.org. 
---
SECURITY
 
Accreditation
Symposium passes will be issued to verified participants in the designated hotels, Soaltee Kathmandu and Hotel Yak & Yeti, on Sunday, 11 June and Monday, 12 June. Delegates who are not staying in the designated hotels are required to visit the Soaltee Kathmandu or Hotel Yak & Yeti, on either day for accreditation and issuance of symposium pass. Each delegate is required to present his/her official travel or ID documents (National/Official Passport, Government Issued ID and/or United Nations Laissez-Passer) for accreditation. There will be no accreditation beyond these dates.
Accreditation is also required for symposium participants' guests to the Welcome Reception and Official Dinner.
 
Symposium Pass
Symposium pass must be worn during event hours. To receive a symposium pass, see "Accreditation" section above. Passes are non-transferrable.
 
Personal Belongings
Delegates are responsible for the security of their personal belongings. Kindly note that the conference rooms will be unattended during the lunch hour.
---
PRACTICAL INFORMATION
 
Visas
Delegates are required to make their own visa arrangements and payment, if needed, for entry into Nepal. Visa regulations and a listing of visa requirements by country is available at: https://www.immigration.gov.np/  
 
COVID-19 Measures
Delegates are expected to follow the current restrictions and required documents below while traveling to Nepal:
A vaccination certificate showing a full dose of vaccination against COVID-19, completed at least 14 days prior to entering Nepal. Or if not fully vaccinated, or have not completed a full dose of vaccination at least 14 days prior to arriving in Nepal, COVID-19 test report (RT-PCR, Gene Expert, True NAAT or WHO accredited test) showing negative result done within the last 72 hours of boarding from the first airport or, if you are entering through land border, done within 72 hours of entry.
After arriving in Nepal. Travelers are required to abide by the health-related protocols recommended by the Government of Nepal, Ministry of Health and Population, from time to time. Such recommendations may change during or after arriving in Nepal. Please keep on visiting the webpages of the Department of Immigration and Covid-19 Crisis Management Center (CCMC) for the latest information. Please note that the government may introduce place-specific restrictions if the situation requires.
Please note that traveler may undergo a health check to see if any of the COVID-19 related symptoms while entering Nepal exists. If any of such symptoms are found, traveler will be required to take a mandatory antigen test at the entry point. If tested positive, traveler will be required to go to an isolation center designated by the Ministry of Health and Population, the Government of Nepal, or to a hospital.
All the expenses including but not limited to, hotel quarantine, hospital, insurance, isolation, COVID-19 test etc. shall be borne by the traveler.

 
Travel Medical Insurance
All participants are strongly encouraged to purchase additional travel medical insurance with coverage for COVID-19.
 
Transportation
A shuttle/taxi is available at cost by the designated hotels to transport delegates between the airport and the designated hotels.
A free shuttle will be provided by the host country to transport delegates between the Symposium venue and the Nepal Army Headquarters on the evening of the Official Dinner
Delegates who opt to stay in accommodations other than Soaltee Kathmandu are responsible for making their own transportation arrangements for the event.
 
Meals and Refreshments
Lunch will be provided onsite for all registered symposium participants.
Refreshments will be served during breaks throughout the day.
 
Dress Code Recommendations
During Symposium Hours:
Civilians: business casual attire
Military officials: class B national working service dress or business casual attire
For Special Events:
Opening Plenary Session:

Civilians: business formal attire
Military officials: class A national working service dress

Official Dinner:

All attendees: business formal attire
---
| | |
| --- | --- |
| | |
| The Soaltee Kathmandu | Yak & Yeti Hotel |
ACCOMMODATION

Two UNDSS cleared hotels are designated to host the Symposium participants: 
Special rates for the designated hotels and booking instructions will be shared with confirmed participants.
---
THEMATIC WORKING GROUP TOPICS

Theme
The theme of the 7th Symposium is "Harnessing Technology for Digital Transformation".
The focus for the 7th International Partnership for Technology in Peacekeeping Symposium is aligning the deliverables of the symposium with the objectives of the Strategy for the Digital Transformation (DTS) of UN Peacekeeping. The symposium will present and advance specific objectives and solutions in support of the implementation of the Digital Transformation Strategy. Previous symposia themes have been as follows:
2022: Informed Aware Effective
2019: Predict Prevent Protect
2018: Next Tech Peacekeeping
2016: Awareness Protection Innovation
2015: Next Generation and Innovation
2014: Technology and Peacekeeping: Exploring New Partnerships

Topics
The following are the five priority areas which will be examined in-depth during the 7th Symposium:

Topic 1
Leveraging Technology to Protect Peacekeepers

2023 | 7th Symposium Objectives
The recommendations of the Leveraging Technology for Uniformed Peacekeepers working group, a workstream of the Digital Transformation Strategy will be presented. Their implementation and partnership opportunities for Member States will be examined. The UN Department of Safety and Security technology challenges will be introduced to the symposium for the first time. The outputs of the 2022 Symposium will be taken as a starting point. The continued focus will be placed on technologies to support and protect temporary operating bases, convoys, and patrols in hostile environmental conditions, UAS and Counter UAS, the Counter EO Strategy, and Counter EO e-learning platforms. Priority challenges on land (EO, complex attacks) and air (IDF, UAS) will narrow the focus and identify specific objectives and realistic solutions. Achieving integration, interoperability, fusion, and standardization of technology solutions as well as the importance and challenges of gathering requirements for designing technology solutions with tactical unit's input. This group will work in cognizance that data enabled peace operations (including satellite imagery, addressing mis- and disinformation and situational awareness) and Integrated Training and Capacity Building are being addressed in other working groups.

2022 | 6th Symposium Outcomes
Discussions focused on present threats, the effectiveness and the limitations of current technology solutions and future challenges. Proposed solutions focused on countering threats beginning at the tactical level. Training and capacity building was seen as critical. Opportunities for the provision of modernized equipment as contributions and partnerships from T/PCC's were examined. Intelligence infrastructure and information sharing is linked to protecting peacekeepers and is an enabling work stream. The importance of deploying existing practical technology solutions and their intelligent use should supersede any aspirations for emerging solutions. The symposium recommended to focus on the following to move forward:
Establish a Working Group to identify gaps, prepare plan and allocate resources and responsibilities to address Leveraging Technology for
Uniformed Peacekeepers under the UN Digital Transformation Strategy
Finalize the development of Department-level Counter Explosive Ordnance (Counter EO) Strategy and initiate the development of UN System-wide Counter EO Strategy
Finalize development of Counter EO e-learning platform and related training modules, start implementation and engage Member States
Work with TCCs/PCCs with latest technology to deploy or co-deploy as contingent
Work on identifying gaps with Peacekeeping Intelligence (PKI) and strengthen PKI infrastructure, implement capable PKI structures in peace operations

Topic 2
Information-Driven Peace Operations

2023 | 7th Symposium Objectives 
This working group will focus on the Digital Transformation Strategy objectives of "Enhancing Situational Awareness" and "Addressing Mis- and Disinformation." Enhancing Situational Awareness will focus on the holistic requirements to enable as close to real time situational understanding as possible for peacekeeping missions, underpinned by Unite Aware as the technology solution which will provide interoperability between identified data sets, tools and applications. The topic will be led by the DPO Situational Awareness Team. Lessons learned from the recent UNFICYP implementation and ongoing work in MINUSCA will inform future mission implementations. Focus will be placed on seeking Member State assistance on resourcing to address targeted challenges. Next phase development will include consideration of integrated reporting and analysis of operational data, including video analysis. Options to strengthen monitoring and analysis of hate speech and mis- and disinformation could be considered.

2022 | 6th Symposium Outcomes
The challenges related to Situational Awareness in peace operations were discussed in the context of the Strategy for the Digital Transformation of UN Peacekeeping (UN DTS). Unite Aware, the peace operations situational awareness technology platform, was demonstrated alongside a specific situational awareness tool to support medical situational awareness. In 2023 four ongoing pilots may mature into initiatives that could be incorporated into Unite Aware suite 1) Big data radio analysis, 2) Cloud free satellite imagery, 3) Mobile open GIS, and 4) Machine Learning video analysis. The symposium recommended to focus on the following to move forward:
Support is required for rollout of Unite Aware throughout all Peace Operations.  Additional capacity is needed to provide surge human resources to complement mission staff to endure successful rollouts
Long term financial support of Unite Aware needs to be built into budget guidelines.
Continued emphasis is needed so support the Unite Aware capacity building and training environment

Topic 3
Integrated Training and Capacity Building

2023 | 7th Symposium Objectives 
The future of the UNC4ISR Academy lies in its alignment with the DPO Digital Transformation Strategies objectives. The work from last year's symposium will be expanded by examining a common framework to leverage existing capacities to optimize delivery and coordination of operational products. Some entities excel in delivering certain categories of training. Developing a matrix of roles and responsibilities where entities have existing comparative advantage. Look at evaluating the potential of modern approaches such as the Operations Centre – Simulated Training Environment (OpsCen-STE) in RSCE. There is a requirement to deliver PK Intelligence capacity building. What data collection can inform on capacity gaps and future roadmaps and how can  collecting data from those returning home from deployments inform?

2022 | 6th Symposium Outcomes
Next steps in the development of the UN C4ISR Academy for Peace Operations (UNCAP) were examined in the context of the broader requirements for training and capacity building for uniformed personnel. UNCAP, ITS from the Department of Peace Operations and UN Mine Action Service are active in providing capacity building services. A new requirement for Peacekeeping Intelligence Capacity building is emerging. A higher-level framework within which the various capacity building initiatives can operate is needed, one that would be organizationally coherent for both member states and the UN. Initial discussion took place on the feasibility of aligning Counter-IED training programs for EOD companies, currently provided by UNOPS as an implementing partner of UNMAS/DPO within a future broader framework centered on UN Academy Operations in Entebbe. The Director of the International Peace Support Training Centre presented the simulation facilities available in Nairobi. In mission training for uniformed personnel delivers far less value that pre deployment training. The symposium recommended focus on the following moving forward:
Concentrate on developing pre deployment training and capacity products for uniformed staff. Balance between on site, in mission, e-learning, online training and virtual training
Leverage synergies and develop memoranda of understanding where appropriate to concentrate capacity delivery at the entity that has the existing comparative advantage. Avoid duplication. 
The Symposium recommended to work towards a common framework within which entities can deliver capacity development and trainings in a coordinated manner across five categories covering a broad range of functionalities. Look at how we can better coordinate various entities conducting training across the Secretariat.

Topic 4
UN Smart Camps

2023 | 7th Symposium Objectives
The UN Smart Camp initiative considers the complexity of peacekeeping operational environments, the need for a minimum environmental footprint and a positive legacy for local communities, the need to keep operational costs reduced, the need for enhanced Camp resilience, efficient management and operations response and the optimized use of scarce resources. The successful pilot project in UNISFA already realizes benefits towards "zero" power interruption, enhanced living and operational conditions and informed resources management. The Department of Operational Support is undergoing an accelerated implementation of Smart Camps in all field missions. DOS aims for the integrated and intelligent management of the broader service delivery network, promoting a "Smart" end-to-end service delivery and operational support. The Camps' services availability needs to be transparent to the Contingents and Camp managers. Digital transformation in the form of Automation of Reporting will provide a common picture of the Camp for its inhabitants and operators and provide the latter with the data to inform decision making. The Automation of Functions will support the needed for coordinated response to ensure operational and business continuity. Smart technologies will help delivering Smart Camps.
The UN Smart Camp pilot in UNISFA has created the template for successful implementation of the wider Smart Camp concept, yet the roll out to all peacekeeping missions in a sustainable manner across the wide variety of deep field conditions presents many challenges: technical, logistical and financial. Engagement with member states and contingents on the elements of smart camp implementation is critical for timely and successful benefits' realization in support of missions' mandates.

2022 | 6th Symposium Outcomes
The working group focused on mapping technology initiatives and solutions to align with promoting UN Environmental Strategy goals in peace operations. UN Global Service Center (UNGSC), UNISFA and MINUSMA presented the status of the UN Smart Camp initiative. The initiative is utilizing the availability of wireless technologies in many UN field camp locations leveraging the Internet of Things and the proliferation of sensors to monitor and manage water, wastewater, energy and fuel, and using associated data for decision-making and to engage with consumers of scarce resources and influence their behavior. The Dukra camp in UNISFA was highlighted as the effective pilot Smart Camp. The symposium decided / recommended on the following:
Continue support for the development and expansion of the UN Smart Camp initiative and its underlying technology platform FRIM.
The United Nations Office of Supply Chain Management (OSCM) announced their ownership of the Smart Camp initiative and set a deadline of two years for FRIM, the underlying technology platform for Smart Camp to be rolled out to all PK missions. UNISFA Dukra Camp to be established as the Smart Camp 1.0 pilot and will become the model to be replicated elsewhere.
OSCM to work on the integration of environmental indicators into COE Working Group.
Explore alternate energy production sources such as Hybrid Containers, Hydrogen and BioGas

Topic 5
Telemedicine

2023 | 7th Symposium Objectives
The value realization of telemedicine technology to support medical service delivery in UNPK operations has been established. The UN Telemedicine program portfolio has already expanded to eight peacekeeping missions in the form of multiple pilot initiatives using modern communication and digital health technologies. The priorities now include mainstreaming proved telemedicine activities into regular UNPK operations, based on valuable qualitative as well as quantitative data gathered during the pilots. HR, training, and capacity building need development.
A roadmap for the policy and legal framework requirements for telemedicine adoption and how to integrate member state direct engagement needs to be developed. The work to date needs to be aligned with the digital transformation strategy of DPO as well as alignment with other UN policies and guidelines. Similarly, the issues of benefit realization and the successful upscaling of new telemedicine services across a broad Peacekeeping landscape needs focus. Successful adoption and, sustainability and support strategies to complement the services now emerging from the pilots needs to be documented. The symposium is also expected to contribute significantly in terms of identifying economically viable and sustainable electronic-satellite communication technologies and various ICT components of telemedicine ecosystem which have been identified as one of the most challenging aspects of the program pilot initiative. Evidence-based evaluation of the overall telemedicine program in UNPK operations need documentation.

2022 | 6th Symposium Outcomes
Subject matter experts shared organizational perspectives in implementing and scaling up Telemedicine services across a range of settings which included both military and rural civilian populations cases. The Symposium decided / recommended the following:
Establish an Advisory Committee on UN Telemedicine
Implement Telemedicine pilots supported by appropriate technologies, evaluate outcomes, review recommendations.
Explore developing a roadmap for mainstreaming
Draft a UN Telemedicine policy document