The Department of Operational Support is based on five key pillars - three offices and two divisions - in addition to the Office of the Under-Secretary-General. Approximately 1200 civilian staff work in UN Operational Support at the UN Headquarters, supporting operations globally.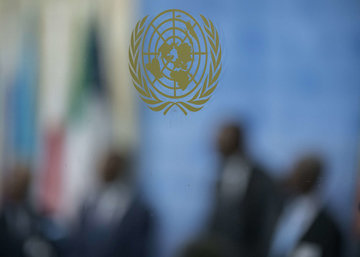 UN Photo/Cia PakA scene from the Security Council stakeout area as participants of a meeting on the Joint Force of the Group of 5 address journalists.
Divisions
The Department of Operational Support consists of three offices working in the areas of Support Operations, including human resources, health-care management and capacity-building, Supply Chain Management and Information and Communication Technology. The latter Office of Information and Communication Technology has a dual reporting line to the DOS as well as the Department of Management Strategy, Policy and Compliance. In addition, two divisions - the Division for Special Activities and the Division of Administration New York support clients in special situations, such as start-up or draw-down, and provide administrative services and UNHQ campus support respectively. 
Service Centers
Apart from the divisions, UN Field Support also includes a Global Service Center located Brindisi, Italy and Valencia, Spain, a Regional Service Centre in Entebbe, Uganda, as well as a Joint Support Office in Kuwait. They perform location-independent functions, i.e., services that can be provided on a shared basis and/or provided from anywhere. The Global Service Center mainly focuses on delivering operational support to missions regarding supply chain, engineering, environmental management as well as information and communication technology. In Entebbe and Kuwait, transactional and administrative support in the areas Human Resources and Finance is provided to field missions.
In addition to these service centers, the Regional Procurement Office (RPO) support regional procurement from Entebbe, Uganda. 
Please click on the respective offices, divisions and sections to find out more about the functions they perform.