6 February 2020 - The United Nations Signals Academy (UNSA) was established in 2015 as an outcome of the first symposium and as a response to address identified gaps in signals and ICT capabilities of Troop and Police Contributing Countries. UNSA is managed by the Department of Operational Support (DOS) Office of Information and Communications Technology (OICT) at UN Headquarters, and it is operated at the Regional Service Centre-Entebbe (RSCE) in Uganda.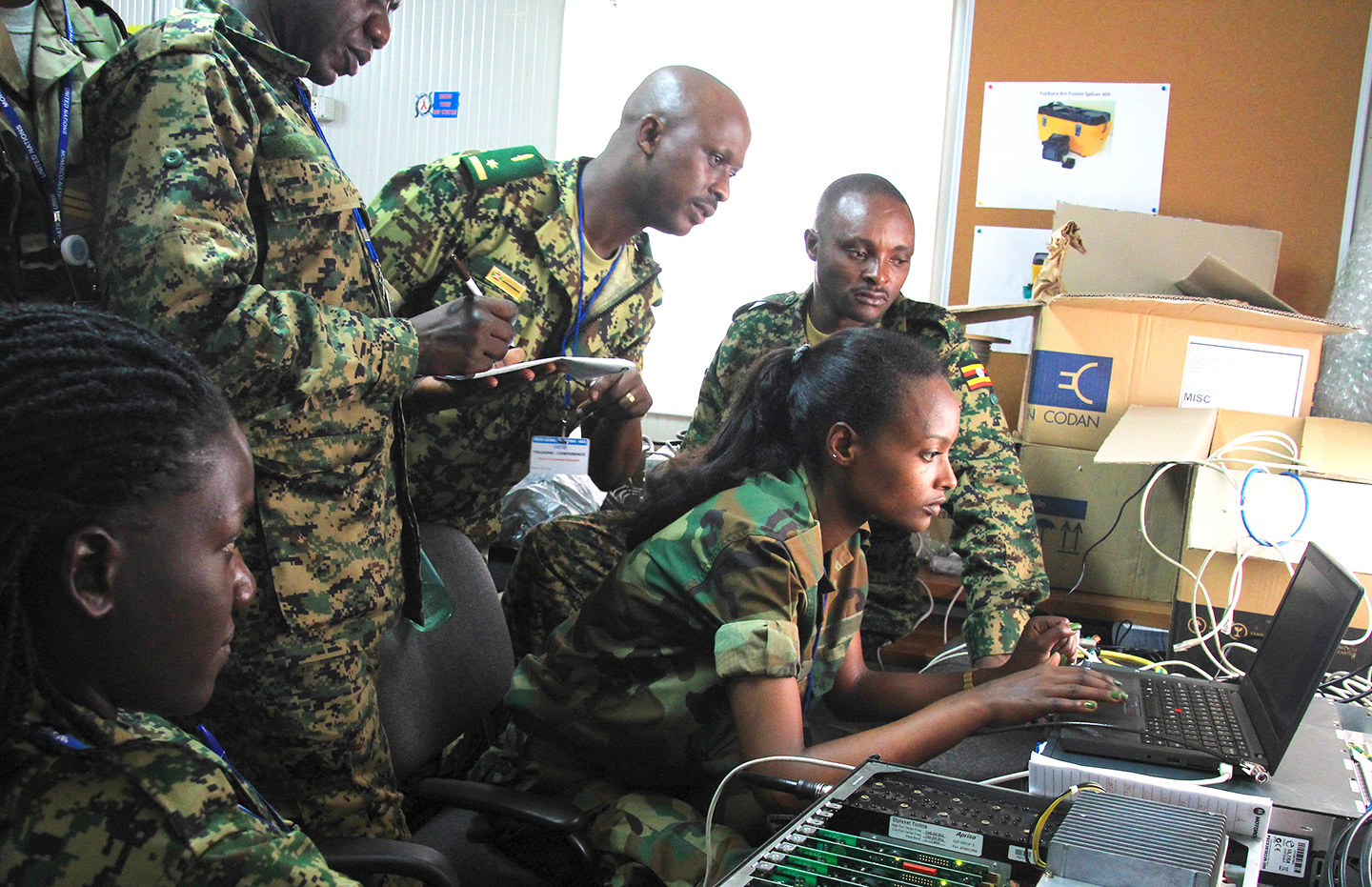 UN Military Signals AcademyOfficers receive hands-on ICT training on UN-owned equipment and UN standard operating procedures.
Background
As highlighted in the Secretary-General's recommendations on a mechanism to fill existing uniformed personnel capability gaps (S/2017/1079):
"More complex and sometimes dangerous operations require strengthened communications, situational awareness, interoperability between units and force protection. Yet, "specialized and high performing capabilities for United Nations peacekeeping are in short supply (…)".
In particular, UN-supported peacekeeping operations require specialized and high-performing signals and ICT capabilities.as the backbone of command and control, ready to be deployed in remote and high-risk locations.
Adequate training for military signals and police ICT specialists is therefore essential to ensure that personnel have the prerequisite knowledge and skills essential to provide technological solutions that respond and adapt to missions' specific operational requirements and evolving mandates.
Objectives
Support Action for Peacekeeping (A4P) objectives

Enhance preparedness of military signals, police ICT specialists and other targeted uniformed personnel prior to deployment in UN missions

Support objective to increase women participation in UN Peacekeeping
Model
The project adopts a triangular partnership model of collaboration between Troop and Police Contributing Countries, the United Nations Secretariat and supporting Member States providing resources in the form of trainers, equipment, funding or other forms of support. The triangular partnership model has been identified by the Report of the High-Level Independent Panel on United Nations Peace Operations as one innovative approach to mobilize specialized and high-performing capabilities.
Achievements
As of 31st December 2019, 5,805 ICT uniformed specialists (16% female) from 104 countries have been trained.

6 editions of the Women's Outreach Course for women ICT uniformed specialists have been organized, training 177 female officers from 57 countries. 23 course graduates (15%) have been deployed as Signals/ICT staff officers, military observers and police advisors. Some of them are among the first female to be deployed to signals staff officers' positions.

E-learning courses are currently under development and will reinforce traditional classroom-based training through its flexibility in terms of reach, time, mobility and language.
What Next
The UNSA level of ambition is growing to better respond to T/PCCs expectations and the programme aims to further strengthen its operational capacity by:
Enhancing existing programmes both on UNSA site (pre-deployment training; female signals staff officers' course; train-the-trainers) and mobile training in Missions (induction and continuous learning).

Expanding course offer (All basics of Information & Communications Technology, Situational Awareness tools, Intelligence-Surveillance-Reconnaissance technology i.e. Micro-drones, Camp security technology, Telemedicine)

Develop E-Learning courses. Accessible remotely by T/PCCs and field missions.

Establish a Mission's Operations Centre Simulation Training Environment (OPSCEN-STE) at the UN Signals Academy to deliver peacekeeping scenario-based training to mission's operation centre leaders and users by using the Unite Aware applications suite to enhance situational awareness and decision making in field operations.

In addition to English language, offering C4ISR training in other UN official languages, especially in French language.

Develop the Triangular Partnership and seek support from more Member States & Partners to sustain the new level of ambition.
Partnerships