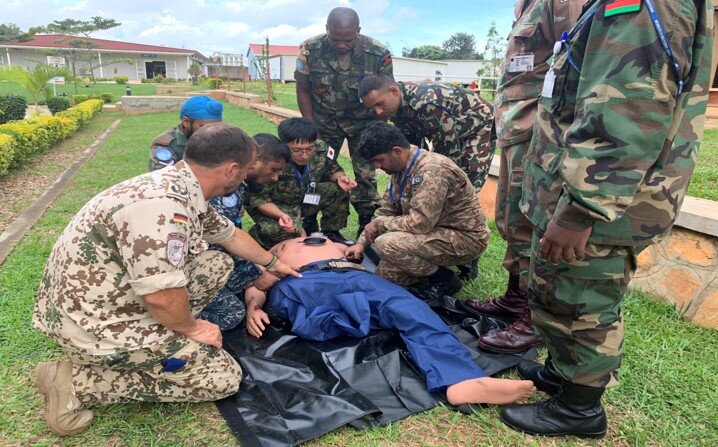 Field Medical Assistants Course (FMAC) conducted in Entebbe, Uganda
ENGINEERING TRAINING
Over 600 engineering personnel from African and Asia Pacific Troop Contributing Countries (TCC) trained both in person and remotely.
Four Member States (Japan, Switzerland, Brazil, Morocco) have contributed trainers, equipment, course sponsorship, or Programme funding.
Host countries (Kenya, Uganda, Viet Nam, Rwanda, Morocco) have contributed trainers, facilities, course management and services on site.
Courses are offered in English and French.
Five in-person courses are currently being conducted namely three Heavy Engineering Equipment (HEE) operator courses (Basic, Intermediate, Training-of-Trainers (TOT)) as well as HEE Maintenance and Engineering Project Management (EPM) courses.
Three remote courses are currently being conducted in UN Environmental Management in Peace Operations, Physical Security Infrastructure (PSI) and Construction Process Management (CPM).
Triangular Partnership Programme (TPP) Trainees have been deployed to MINUSMA, MONUSCO, UNIFIL, UNMISS, and AMISOM.
MEDICAL TRAINING
The Field Medical Assistants Course (FMAC) was piloted in October 2019 for 29 uniformed peacekeepers from MONUSCO and UNMISS with trainers from the UN, Belgium, Germany & Japan and financial support from Japan, Israel and India.
The aim of FMAC is to provide trainees with the knowledge, skills and capability to perform life-saving interventions to peacekeepers, as well as enhance the emergency medical response skills and capabilities of peacekeepers in life-threatening situations to increase survivability.
FMAC (in-person) and FMAC Master Trainer Course (MTC) (webinar and in-person) will be held in 2022. 
UN C4ISR ACADEMY FOR PEACE OPERATIONS (UNCAP)
Since 2015, about 6,500 (12% women) military & police personnel from 112 countries have undertaken technology training in Entebbe or in missions.
6 Women's Outreach Course: 177 female officers trained from 54 countries from Africa, Asia, Europe and Americas, and 23 graduates have deployed to UN field missions.
UN missions in Africa (MINUSMA, MINUSCA, MONUSCO, UNSOS) are the largest technology training beneficiaries.  
Academy partners: Japan, India, Canada & Denmark are contributing extra-budgetary funding, France, Uganda, NATO Communications and Information Academy are contributing technical support with trainers, expertise, mentoring and logistics.
Since the launch of the Technology Training Portal (technologytraining.un.org) in September 2020, 334 certificates of completion were delivered to learners from all Missions on C4ISR and Situational Awareness.
The Mobile Training Team (MTT) delivered its first in-mission course in MONUSCO in September 2021.
TELEMEDICINE
Telemedicine (also known as Telehealth) is the support of delivery of health services through telecommunications technologies in situations where the clinician and patient are not in the same location.
A pilot Telemedicine Project was launched in March 2021 with the aim of improving overall access to healthcare in four of the most complex UN missions:  MINUSMA, MINUSCA, MONUSCO and UNMISS.
The project also aims to strengthen the operational support framework in missions and contributes to the broader UN peacekeeping reform initiatives, specifically A4P and A4P+. 
Two stakeholders workshops were held in August and November 2021 with a total of more than 200 participants from the four target missions and UN Headquarters.
This project is supported by Japan and Australia.