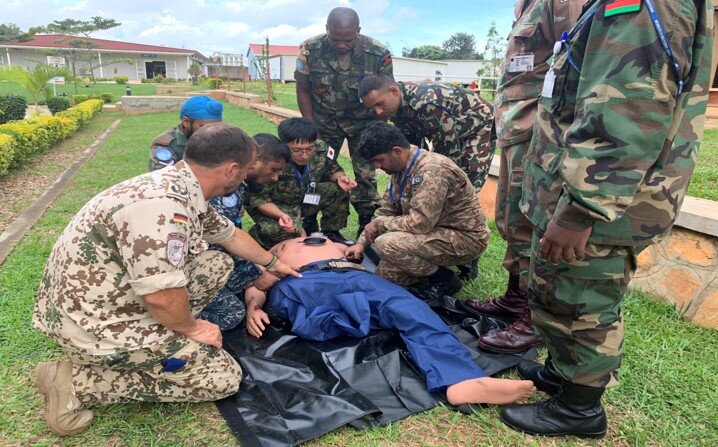 ENGINEERING TRAINING
508 engineering personnel from African, Asian and Pacific troop-contributing countries trained.
Three Member States (Japan, Switzerland, Brazil) have contributed trainers, equipment, course sponsorship, or Project funding.
Host countries (Kenya, Uganda, Vietnam, Rwanda, Morocco) have contributed trainers, facilities, course management and services on site.
Courses are offered in English and French.
Five courses are currently being conducted namely HEE (Basic, Intermediate, Training of Trainers), Maintenance of HEE and Engineering Project Management.
Trainees have already been deployed to MINUSMA, MONUSCO, UNIFIL, UNMISS, and AMISOM.
UN C4ISR ACADEMY for Peace Operationss (UNCAP)
Since 2015, about 6,500 (12% women) military & police personnel from 112 countries have undertaken technology training in Entebbe or in missions.
6 Women's Outreach Course: 177 female officers trained from 54 countries from Africa, Asia, Europe and Americas. 23 graduates have deployed to UN field missions.
UN Missions in Africa (UNSOS, MINUSMA, MINUSCA, MONUSCO, UNSOS) are the largest technology training beneficiaries.
Academy partners: Japan, Canada & Denmark are contributing extra-budgetary funding, when France, Uganda, NATO Communications & Information Academy are contributing technical support with trainers, expertise, mentoring and logistic.
FIELD MEDICAL ASSISTANTS COURSE
The Field Medical Assistant Course was piloted in October 2019 for 29 uniformed peacekeepers from MONUSCO and UNMISS with trainers from the UN, Belgium, Germany & Japan and financial support from Japan and Israel.
TRAINING MODULES
Engineering Project Management
Help military engineers build stronger foundations in managing projects in complex environments.
Survey and Design
Support military engineers with skills and knowledge for site surveying and camp design.
Operator Training
Train military engineers in operating modern equipment in demanding settings.
Maintenance and Recovery
Strengthen skills and knowledge for equipment maintenance, transport, recovery and repair.
Training of Trainers
Equip new trainers with the skills, knowledge, and technical assistance to impart engineering training in their own countries.
Medical Training
Provide training for Field Medical Assistants and Advanced Trauma Life Support. 
UN C4ISR Academy for Peace Operations (UNCAP)
Provide technology training on UN-owned C4ISR & camp security systems and processes both in English and French.
Develop and deliver new technology training including micro Unmanned Aircraft Systems (drones) and Situational Awareness applications (Unite Aware) "scenario-based" training at the OPSCEN-STE (Operation Centre - Simulated Training environment) in Entebbe.